Edison: Artist in Residence
We recently had the pleasure of sitting down and chatting with Arnie Charnick (aka NickChar), Hotel Edison's Artist in Residence. He's been drafting up three Times Square-themed wall murals at the hotel for the past few months, delighting guests night and day as he works near the corridor. This brief Q&A gives a sneak peek at Charnick's large-scale works in progress.
Where did you grow up?
I was born and raised in The Bronx. I'm a Bronx Boy. The Bronx is a very hilly borough with
many elevations. I spent the most creative part of my childhood building the most hip and
attractive soapbox race cars to go down the hills. Covered in bottle caps; old carriage wheels.
Mine were always the best looking ones.
Have you always aspired to be involved in the arts?
It had nothing to do with want or aspiration. There was no other way—it was all I could do well.
What's your background with various mediums? Did you begin with painting?
I started drawing when I was five years old. I was using my mother's wax paper as tracing
paper. I used her Cut-Rite wax paper to trace the Looney Tunes cartoons. I was the Cut-Rite
Copycat.
Did you attend a special primary school or high school for the arts?
The only thing I'll mention about my schooling is that I'm from a below-working class family from
The Bronx. I was lucky enough in junior high school up in The Bronx (PS 123) that they picked
out talented kids and teenagers in any areas from art, science, and engineering and they would
place them in special high schools in New York. I got very lucky because they sent me at 13 years old to the Music and Art High School. It's now combined to Performing Arts and Music and LaGuardia High School in Lincoln Center. Music and Art was located up in Harlem, and I went there every day for four years and it changed my life entirely. I met cultured Manhattanite kids whose parents were musicians and artists. Every once in a while, some poor, talented kid from an outer borough would be selected based on their talents. I would say that was significant in my life early on.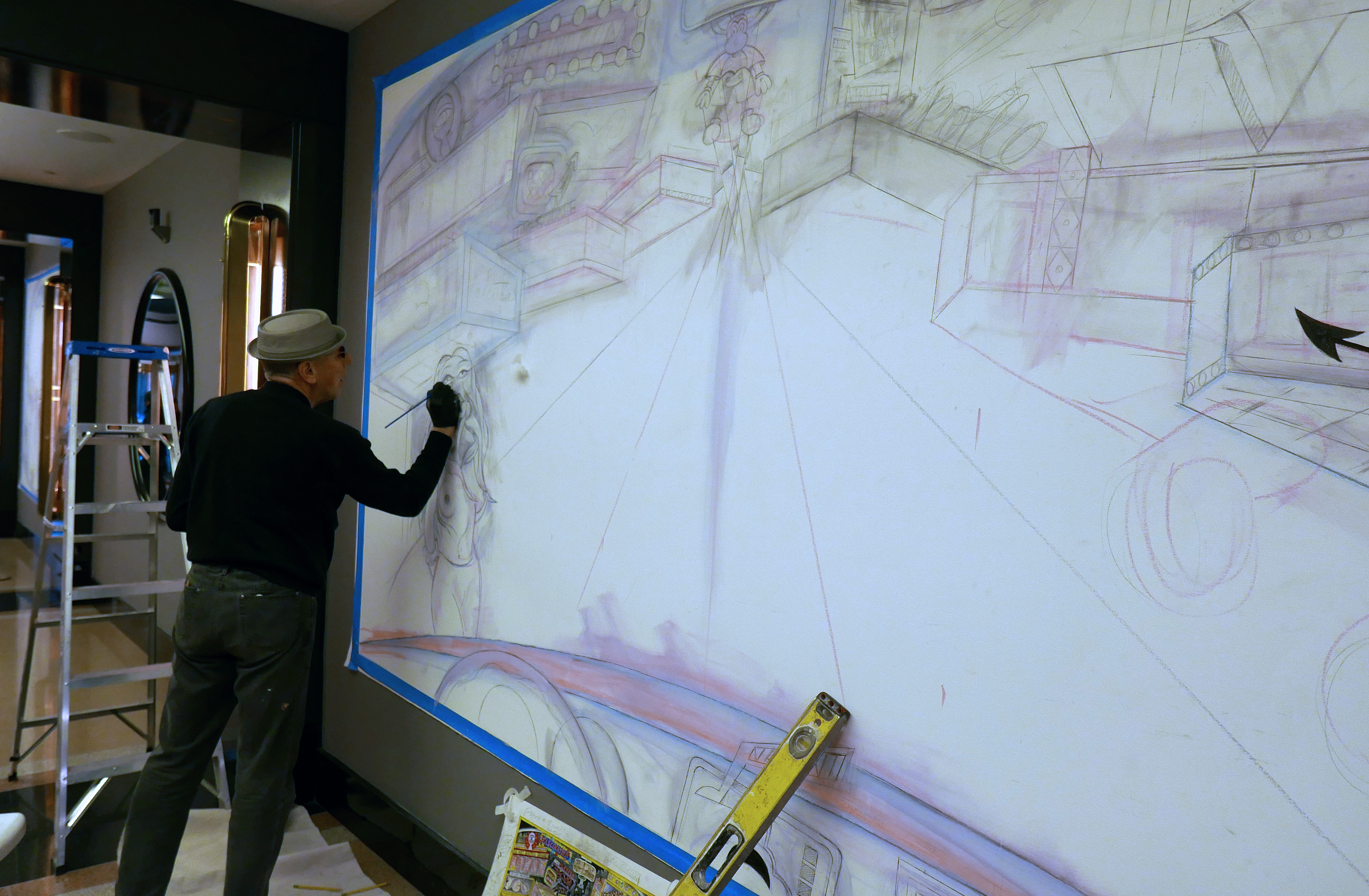 Do you work on assignments in other cities?
I have done work in Los Angeles and I have murals in Costa Rica, Belize, and Nicaragua. The
reason I have murals there, is because when I travel, I trade mural work for room and board. I
was able to spend time in those countries in exchange for room and board.
Have you always worked on large format murals?
The larger, the better—you know what they say—men who have big, fancy cars are
compensating for something. So, I'm compensating by doing these big murals.
What's the most indispensable item in your studio?
I've never treated myself to something like this—even when the client is paying for the supplies
and tools. I've never used a really high quality brush in my life. It's part of me being poor
growing up and just trying to get by with what I had. I also am pretty rough on the brushes, so I
just think why bother. The paint I use is a terrific latex and acrylic paint made in Los Angeles, and
they ship it to me. It's high quality paint called Nova Latex. I recommend it to any artist.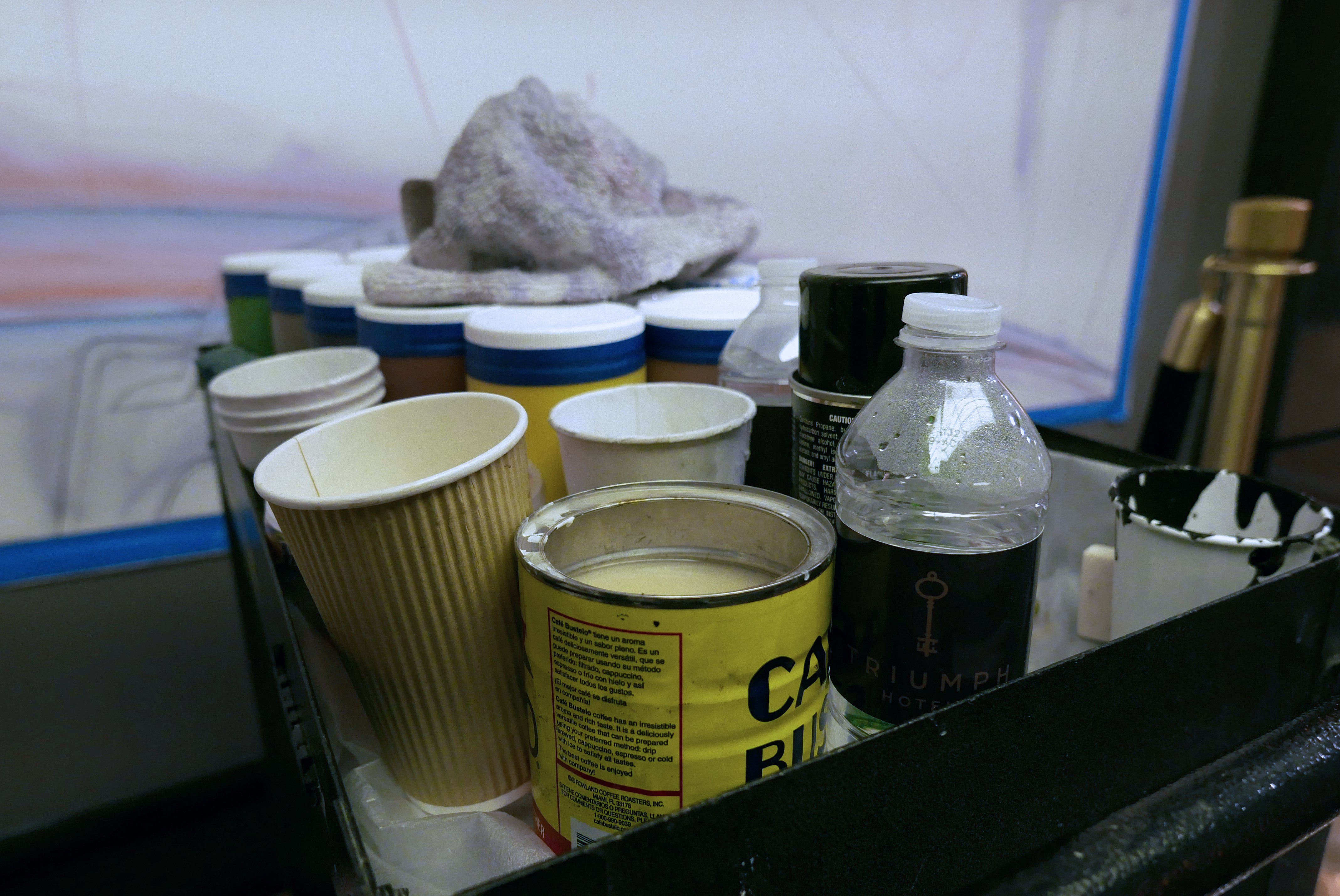 Do you use Nova paint for all of your projects?
No—the painting I did behind me (referencing mural in Hotel Edison lobby) that I did for
Triumph back in 1991, was done with a billboard enamel. That's what I used for years and
years, but it's a very toxic paint. I worked on that painting for two months in here.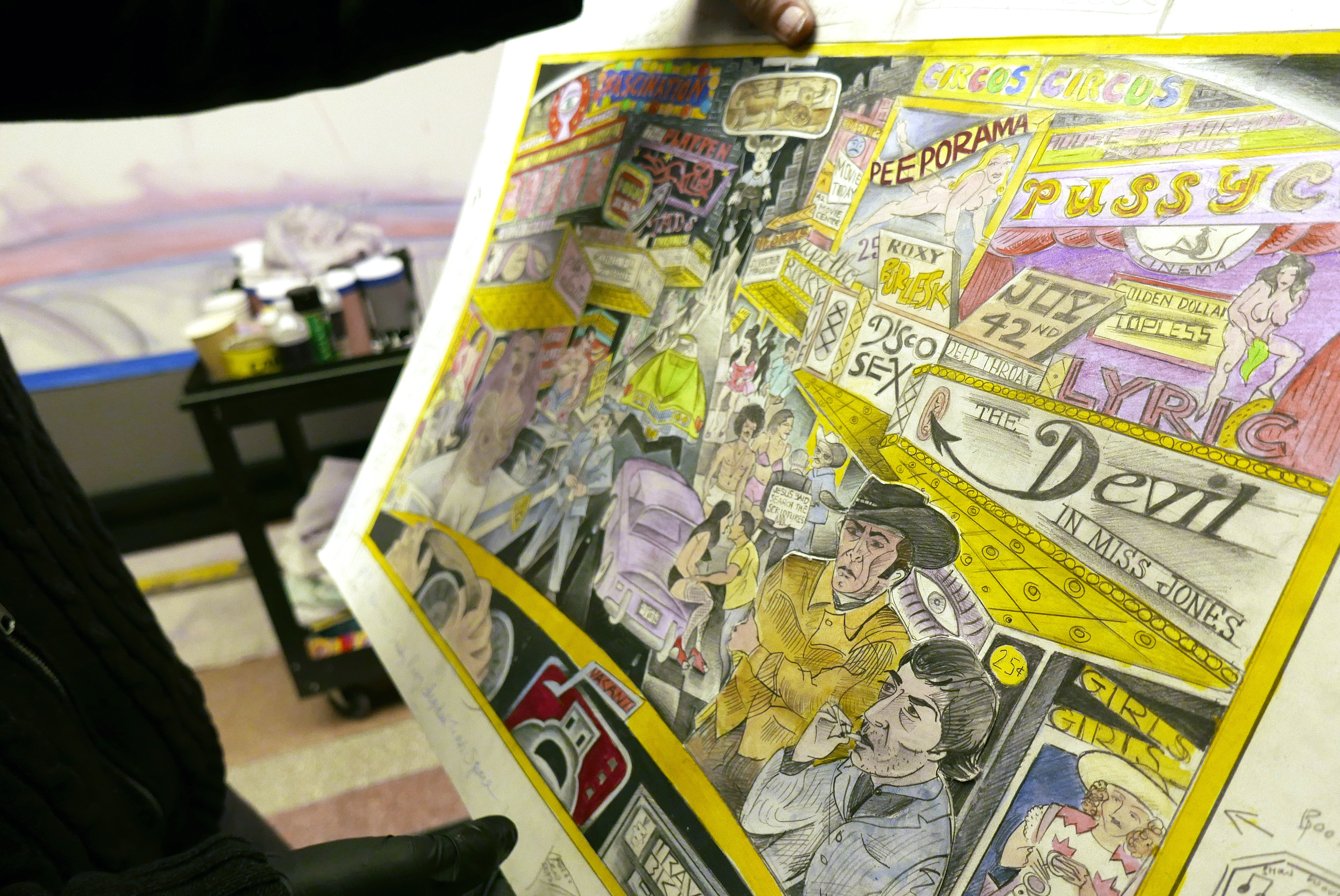 What was the first artwork you ever sold?
I put some stuff out on the street in the iconic outdoor Greenwich Village Art Show. I was 12
years old. I hauled down some of my drawings right down to the street in Greenwich Village.
You were supposed to sign up and pay for a booth, but I just went for it. The first painting I sold
was one I did of a vegetable stand from my neighborhood in The Bronx.
We love your "Veselkhiarascuro" mural at cult-favorite café, Veselka. How did you
become involved with their team?
The Veselka restaurant is my downtown showcase where I have done many murals. It's my
downtown gallery, but I don't have to share any profits with them, and I'm in control of whatever I
want to show and do. It's a win-win for both of us. I much prefer to show at a hotel like Hotel
Edison or a restaurant opposed to a gallery. Everyone can see it and they don't have to deal
with all of the politics of the art world. I particularly like Triumph Hotels as a client because my direction is open-ended and they basically say "I defer to you." It's very important to me to have a client who trusts me.
You've been here at Hotel Edison since when—November? December?
Well, I came in early November and did all of the first drawings and sketches in my room. From
there, I shared them with the team who provided feedback and approvals before I began the
large murals.
Now that the corridor is completed with its renovations, you've started on the murals! Tell us about your few months of residence at Hotel Edison.
I absolutely love the neighborhood and hotel because I've lived in the East Village mostly, so
now I'm getting the Midtown experience—it's great. The interesting thing about this location is
that if you walk out the door on 47th and head into Times Square, it's jam-packed with activity.
BUT, if you turn left and go over to Ninth avenue, it's more of a neighborhood with great
restaurants and local characters.
We heard you've been dining quite a bit at our new Friedmans restaurant at the hotel.
They're treating me great there. All my meals are comped by Triumph! Room and board, easy
workspace—it's great being an artist in residence here. Coffee and breakfast is amazing at
Friedmans. I eat my oatmeal breakfast here every morning. The salmon dinner here is great.
Good food, very healthy and very nice service. It's really an ideal artist's gig! Three paintings,
great theme, live in the hotel, and lovely people in the hotel.
Have guests been interacting with you while you're working?
Everyone is oo-ing and ahh-ing at the drawings so far. Not only do I not mind, but I prefer
painting in public like this to show people the process and to share it with them. Show them the
ugly parts. A lot of artists would not want anyone bugging them while they work or see any of
the hard parts of working during the process. I like the social interaction of sharing with people
the process here. It's fun.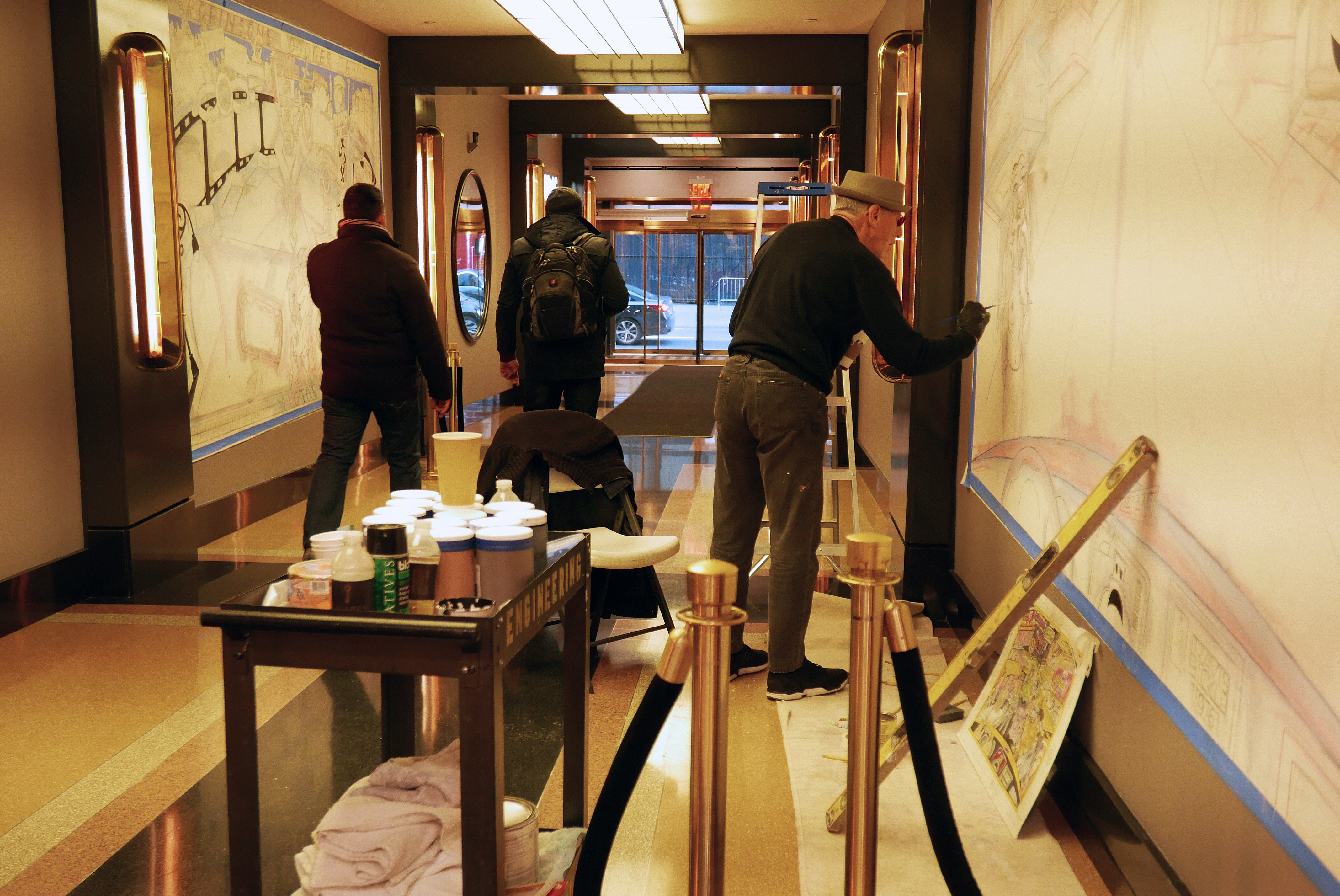 Can you share anything about the direction and content of the murals?
We shook on the idea of representing Times Square—early Times Square during the vaudeville
days for the first mural (1900-1930), and then somewhere in between (1940-1950), and then for the third we opted to show the 1970s and '80s when it was seedy and controversial. Not too
provocative though! I'm using sepia tones for the early mural to sort of simulate the old
photograph. I like working with one tone over the whole thing. The second mural will be in color,
but show projections of four cinema movies being displayed in black and white. The third mural
will be in full color.
Any other insider info you can share about Hotel Edison?
The Edison is represented in each of the three murals—and the first one, is the hippest one
because it's a newsboy holding a newspaper announcing that the hotel is opening in 1931. In
fact, in that newspaper, the headline will read "Hotel Edison Opens" but it will be explained
further in the subheadline about how the hotel received its name. In 1931, Thomas Edison, in
his home in Menlo Park, New Jersey literally flipped the switch and it turned on the electricity in
this hotel in Manhattan—so they named it Hotel Edison.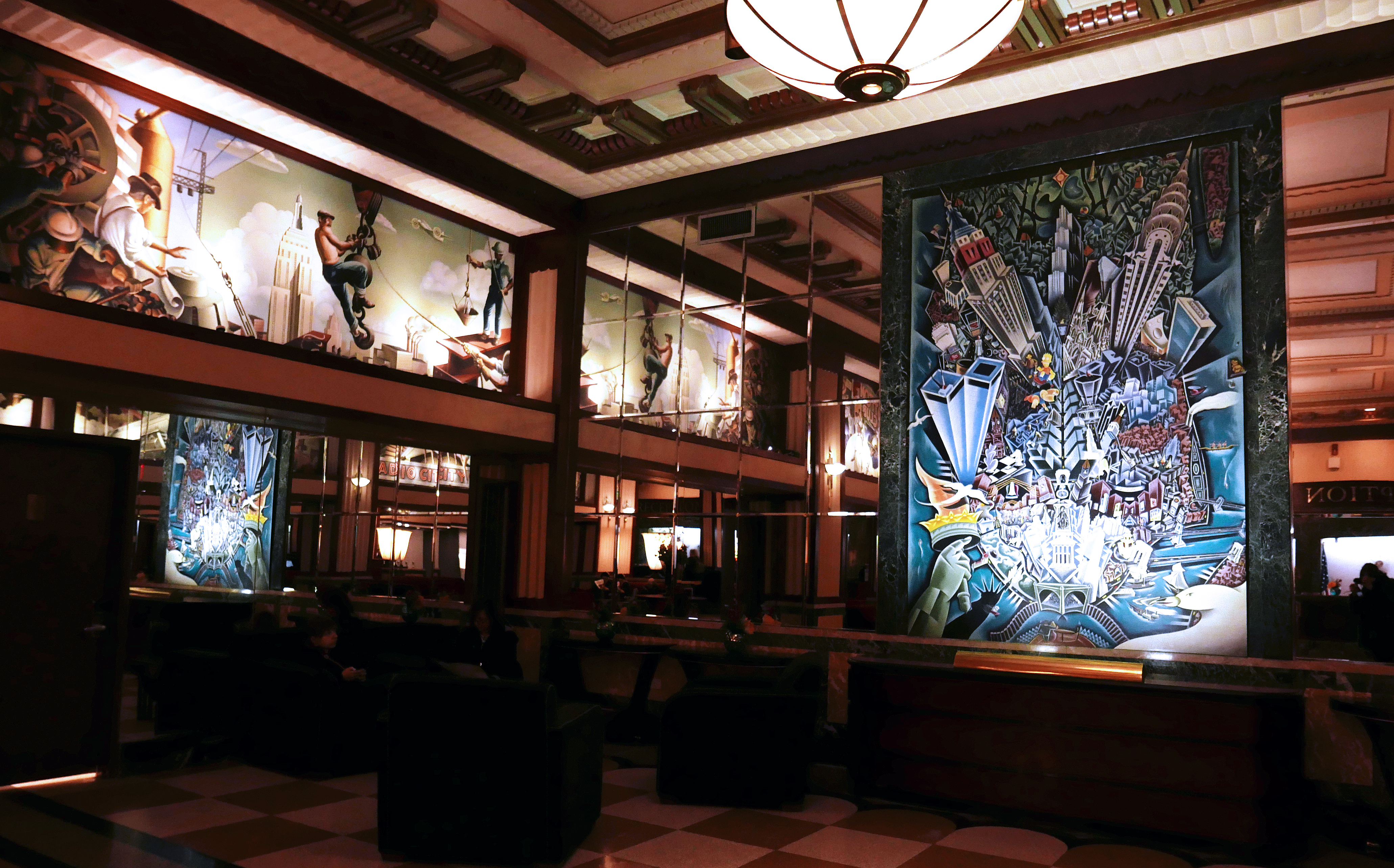 Hotel Edison will be hosting Charnick through April 2018—book a stay today to witness the stages of Charnick at work. (Or even strike up conversation—he's quite the charmer!)