New York City Is About to Get Delicious
100 Things to Do This Summer in New York City
We're here to help you find the best ways to spend your time in New York City. So, as we encounter these warmer days together, with each post we'll let you know about upcoming events, shows, festivals, and opportunities in the city this summer.
Food is coming. If you're staying with us this June you'll be surrounded by opportunities to taste the incredible fare of New York City.
You won't have to travel far either.
The Taste of Times Square takes place virtually on our doorstep and the Big Apple Barbecue is only a mile away. In fact, the furthest event — the rowdy Cheesemonger Invitational — is a quick ride across the East River.
Stay with us and when you go out on the town, no matter which way you're headed, you won't go hungry.
Taste of Times Square
Celebrate the tastes and sounds of New York City at the 24th annual Taste of Times Square food and music festival. You'll be able to sample dishes from the neighborhood's top spots — over fifty restaurants from Times Square will have booths set up and incredible food ready to serve. Taking your time strolling along West 46th street, sample local brews in the beer garden, and enjoy music from some of the city's best musicians.
When: June 5, 2017, 5:00 - 9:00 pm
Where: West 46th St.
Getting there: From Hotel Edison, basically just walk outside and you're there. West 46th St. is the next street, just south of us.
Cheesemonger Invitational
Fierce. Exciting. Unpredictable. It's the Cheesemonger Invitational. You never knew cheese could be this sensational and competitive — but it is, and you're invited. Sample cheeses from dozens of cheesemongers from around the country. Judges will assess cheese based upon presentation, taste, and each monger's enthusiasm about their creation. Needless to say, things get a little cheesy. But in a good way. Trust us.
When: June 24, 2017
Where: Larkin Cold Storage, 4755 27th St, Long Island City
Getting there: From Hotel Edison, it's a four-mile ride, about twenty minutes.
Big Apple Barbeque
It's a barbeque and beer block party in the middle of Manhattan. Need we say more? We will anyway — the Big Apple Barbeque is the largest culinary and music festival dedicated to barbecue in the country. Enjoy beer, wine, and live music as you feast on the mouthwatering barbecue from the world's most celebrated chefs and pitmasters.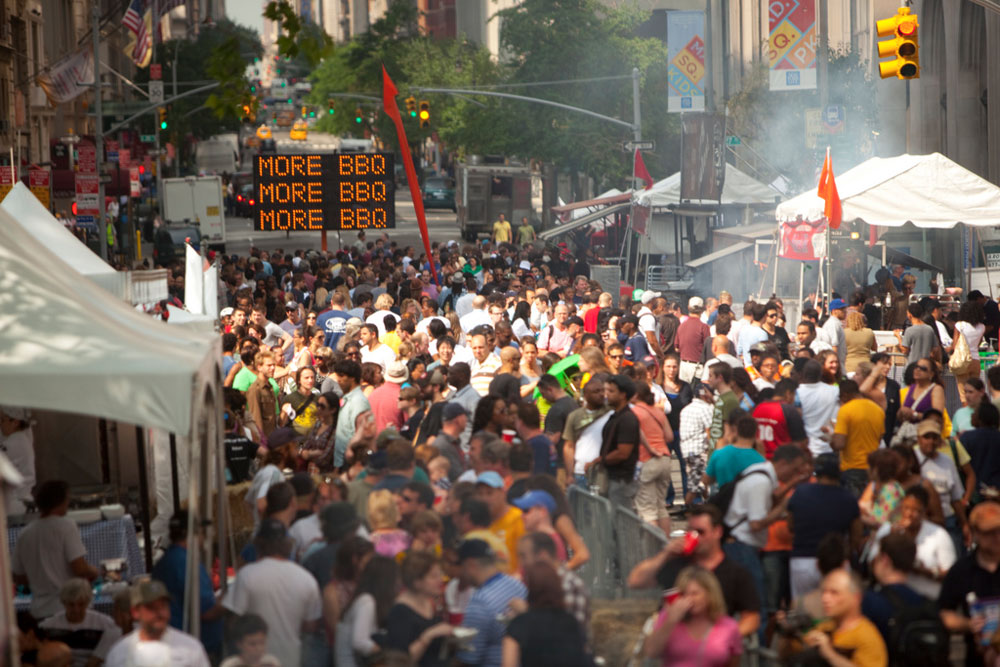 When: June 10 - 11, 11 a.m - 6 p.m.
Where: Madison Square Park and surrounding streets
Getting there: The park is just one mile south of Hotel Edison, about a 30-minute walk or 15-minute drive.
New York City Bourbon Bash
It's simple — great bourbon, delicious food, and incredible music. That's what you'll get at the New York City Bourbon Bash. Venture down to East Village and imbibe eight premium bourbons at eight of NYC's leading bars. Start at one location, then venture to the rest in any order you'd like. Get your bourbons neat, on the rocks, or with a soda mixer — your choice.
When: June 10, 2017, 12 p.m. - 10 p.m.
Where: Various locations in and around East Village
Getting there: East Village is about three miles south of Hotel Edison.
Taste of Hell's Kitchen
Get a $30 credit just for dining out in Hell's Kitchen. You're in for a culinary delight when you stay at our Hell's Kitchen hotel. The diverse neighborhood hosts cuisine from all across the world. In just one block, you can taste a continent's worth of food. Along 9th Avenue, you'll find juicy South American steaks, delectable Italian, and spicy Indian. Enjoy our special Hell's Kitchen hotel package that lets you taste more when you stay at the WJ.