The Best Bohemian Spots in NYC
Trendy and boutique shopping, local markets, craft vendors - explore them all with a soundtrack to keep your fun-loving free spirit alive in the Big Apple.
We've found the most eccentric and unique spots in the city where you're sure to experience the unexpected.
Have a meal in Chelsea Market, tap your toes on the Greenwich Village Jazz Crawl, or ride a tandem bike over to SoHo for some retail therapy.
Want to learn more? Keep reading.
Chelsea Market Food & Culture Walking Tour
What: Chelsea Market is New York's biggest & oldest indoor food market. Located in Manhattan's Meatpacking District, the area has long been a hub for food, dating all the way back to the Algonquin Indians. A block long and a block wide, explore more than 35 vendors serving everything from tacos to spit-roasted meat, craft beer to coffee, mac and cheese to cheesecake. Enriched with history, the market boats sights, sounds and flavors that define its iconic location. Just a short walk from the Hudson River, make your way to The High Line and enjoy one of the city's favorite parks!
Where: 9th Avenue & West 15th Street
When: Open daily at 10 am
Price: $57
Link: https://www.headout.com/tour/2005/united-states/new-york/chelsea-market-food-and-culture-walking-tour
Greenwich Village Jazz Crawl
What: Greenwich Village hosts New York's finest Jazz clubs! Discover the country's rich Jazz history and some of the finest underground artists on this walking tour. You will visit over three jazz clubs and have the opportunity to get up-close and personal with many of the performers. You'll also get to learn about the legendary club where Billie Holiday made her downtown debut, and discover some of the best hidden speakeasies in the city! By the end of the tour, you are sure to have a newfound appreciation of jazz music!
Where: Greenwich Village
When: Runs everyday, except Tuesday
Price: $99
Link: https://www.headout.com/tour/582/united-states/new-york/greenwich-village-jazz-crawl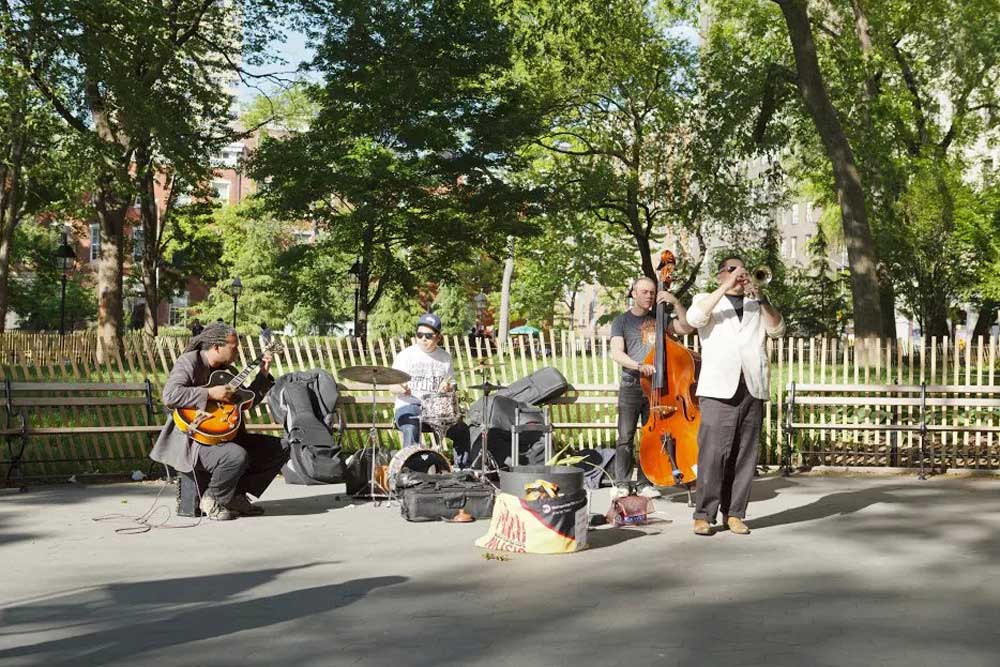 SoHo Shopping
What: SoHo (south of Houston St.) and TriBeCa thrive with posh people and trendy boutiques. From international names to vintage clothing and handmade crafts (The Market NYC), these neighborhoods are a haven for shoppers. On weekends, vendors along Prince Street and West Broadway sell a variety of unique jewelry, art books, paintings and more. Another popular SoHo neighborhood shopping area is Crosby Street - home to a hip collection of trendy boutiques and independent designers. Less trafficked than Broadway, the six-block stretch still boasts some excellent shopping options. Separating SoHo from TriBeCa, Canal Street is filled with street vendors selling everything from electrical goods to designer knockoffs. Whether you want to splurge, or just window shop, exploring this fashion corner of the city is a nice way to spend the day.
Where: SoHo - Bordered by Canal Street to the south, Lafayette Street to the east, Sixth Avenue to the west and Houston Street to the north.
Crosby St - Runs from Bleecker at its northern end, to Howard at its southern end.
Green Flea Market
What: There's nothing like the thrill of a great find. And that's what Green Flea Market is all about. This long-standing flea market on the Upper West Side is brimming with antiques, vintage clothing, and rare collector's items. Here you can find everything from furniture and jewelry to specialty foods and a local farmer's market. Shopper or not, you're sure to find something that catches your eye.
Where: 100 West 77th Street
When: Sundays from 10 am to 5:30 pm
NYC Tandem Bike Rental
What: Spend some quality time with your loved one as you bike around New York City's most beautiful and breathtaking spots. A tandem bike allows to enjoy a more intimate experience as you explore the diverse terrain of the city. You can take the bikes wherever you'd like and move at your own pace. Bike around Central Park, break for a picnic on the lawn, soak in views along the Hudson River and stop for as many photos as you'd like. Tandem biking is the perfect summer date. It's also a great way to get some exercise in!
Where: Manhattan
When: Available to rent everyday
Price: $13 per hour
While this list certainly highlights some extraordinary experiences, it only scratches the surface of summer in the city! Explore more amazing NYC happenings with this round-up of the 100 Best Things To Do In NYC Summer 2017.