The Local's Guide to NYC Museums
Defining NYC as a city of culture is an understatement. The city is alive with art, history, and experiences that go well beyond every tourist's bucket list.
The local city-dwellers here at Triumph Hotels have put their heads together and come up with some curated experiences for your cultural immersion.
Whether you've traveled far, or you're looking to travel a few blocks, here are our favorite destinations:
MET Museum Roof Martini Bar / MET
What: The Metropolitan Museum of Art is one of the most iconic landmarks in New York. The largest art museum in the United States, the MET is also one of the most visited and popular museums in the world. Home to over 2 million works of art, the MET's collections span over 5,000 years of history and represent incredible human creativity from across the globe. The museum also hosts an array of popular and exciting events. The MET Gala, an annual celebration that takes place at the MET every May, draws some of the biggest celebrities from across the world.
After exploring the impressive art, head to the rooftop of the MET Museum and you'll find a charming bar that serves wine, cocktails and light bites, while also offering a dazzling view of Central Park and beyond.
When: Monday - Thursday: 10 am to 5:30 pm; Friday - Saturday: 10 am to 9 pm
Where: Upper East Side
Price: Avg. $25 for 2 people
Link: https://www.headout.com/tours/new-york?tags=met&categoryId=239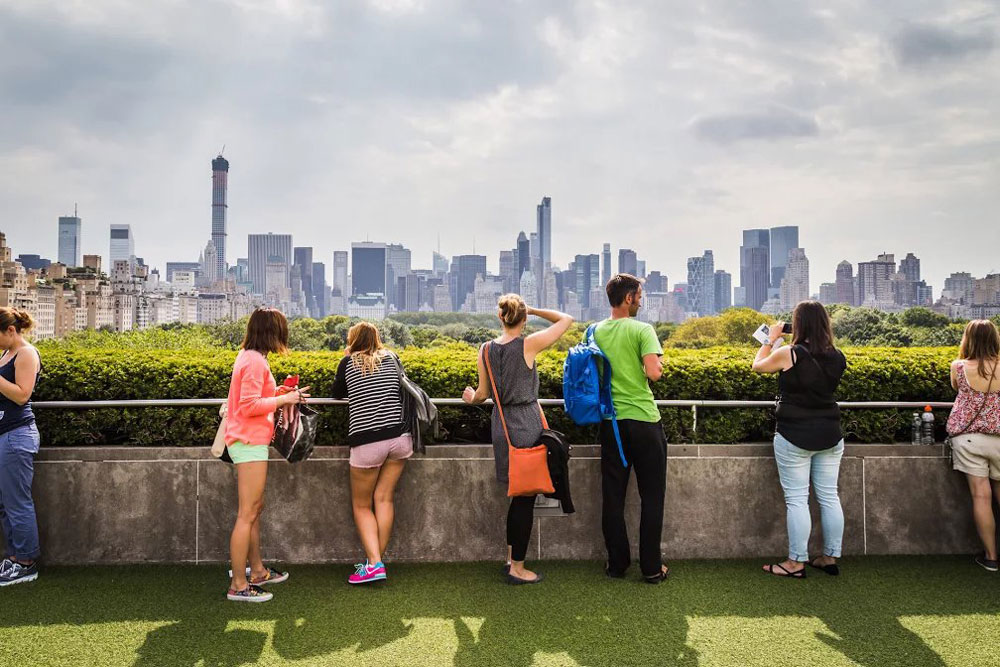 American Museum of Natural History
What: You might have seen it on Night at the Museum, but now it's your turn to check out the world famous artifacts in person. Founded in 1869, the American Museum of Natural History is one of the largest and oldest in the world. See dinosaur bones, explore distant galaxies, check out the colossal Hayden Sphere at the Rose Center for Earth and Space and much more. Also, be sure not to miss favorite exhibits including the T-Rex, the Alaskan Brown Bear diorama, and the 94-foot whale model!
Where: Upper West Side
Price: $17
Link: https://www.headout.com/tour/700/united-states/new-york/american-museum-of-natural-history
MoMA / MoMa PS1's Warm Up
What: The Museum of Modern Art is an iconic NYC landmark, almost as popular as the city itself. Featuring an inspiring and thought-provoking collection of art and exhibitions, MoMA is a New York requisite. Spanning six floors, the museum's collection numbers more than 150,000 works of art, along with a substantial film and photography collection. Home to world famous masterpieces such as Vincent Van Gogh's The Starry Night, Andy Warhol's Campbell's Soup Cans and Jackson Pollock's One: Number 31, 1950, MoMA's artwork ranges from European-influenced pieces of the 1880's, to present day modern designs.
This summer, time your MoMA visit for the annual PS1 Warm Up. Conceived in 1997 as a summer-long dance party with international DJs and local live musical acts, Warm Up has been hosting crazy fun ever since. Throughout its 20 seasons, the event has featured over 750 artists including Solange, Jamie XX, and Grimes, experimental musicians Arca, Black Dice, and Four Tet, and legendary DJs like DJ Premier, Ritchie Hawtin and Kim Ann Foxman. As one of the longest-running music programs within a museum, Warm Up supports emerging artists and provides a platform for experimentation, unique collaborations and new material.
When: July 1 - 15, 2017
Where: Queens
Price: $18 - $30
Link: https://www.moma.org/calendar/programs/104
While this list certainly highlights some extraordinary experiences, it only scratches the surface of summer in the city! Explore more amazing NYC happenings with this round-up of the 100 Best Things To Do In NYC Summer 2017.