Top 10 Hidden Gems Like Hotel Chandler in NYC
Contrary to popular belief, Hotel Chandler is not the only hidden gem in New York City. Reaching from the very top to the very tip of Manhattan, are tons of cool, beautiful, and interesting sites that are not very easily found. Luckily, especially for our guests, we have compiled a list of our favorite top 10 hidden gems in the city:
10.[via Mashable, Tyler Tronson]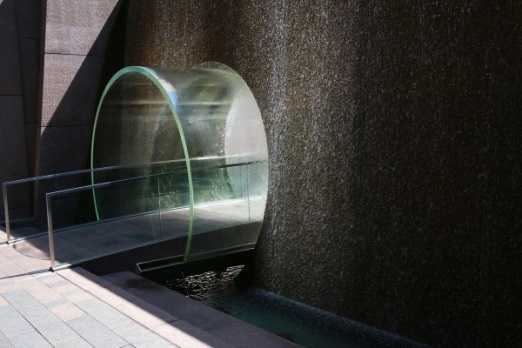 McGraw Hill Midtown Building: 1221 Avenue of the Americas
McGraw Hill is known as the company that publishes textbooks for college students all over the country. Something you may not know about them is that they also have a hidden gem in their corporate building. On the west side of their building between 48th and 49th street is a Plexiglas tunnel that runs right underneath a waterfall.
9.[via gothamist.com]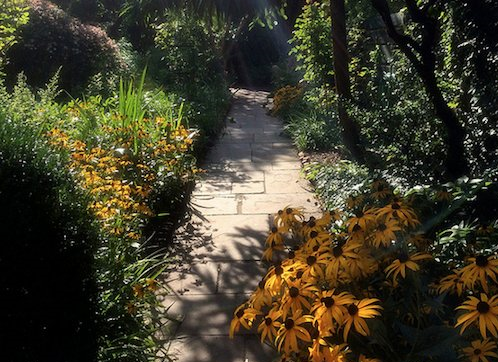 Secret Garden at St. Luke in the fields: 485 Hudson Street
This secret escape is filled with many different flowers, birds and butterflies right in the middle of the West Village. It is cloaked by a huge brick wall and black iron gate, but if you're clever enough, you just might be able to find it!
8.[via Flickr: joygantic]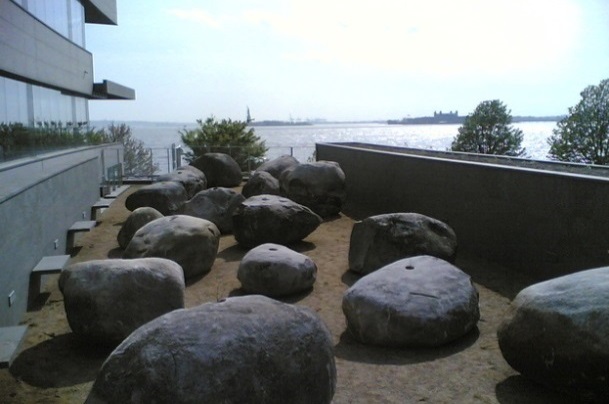 The Garden of Stones: 36 Battery Place
The Garden of Stones is part of the Museum of Jewish Heritage. Although, not entirely hidden, it is certainly a sight for sore eyes. Featuring plants planted in stones by Holocaust survivors and their families, there is much history surrounding this piece. Eventually, the plants bloom and the rocks break apart.
7.[via manhattansideways.com]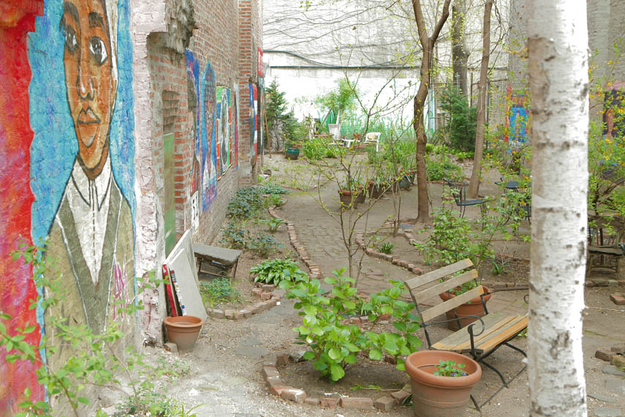 1st Street Garden: 48 East 1st Street
The 1st street garden became a local garden in the 1980's and has steadily been maintained and taken care of by its neighbors. The murals change every few weeks but are currently in the theme of "women who made a difference in America."
6.[via todaysthedayi.com]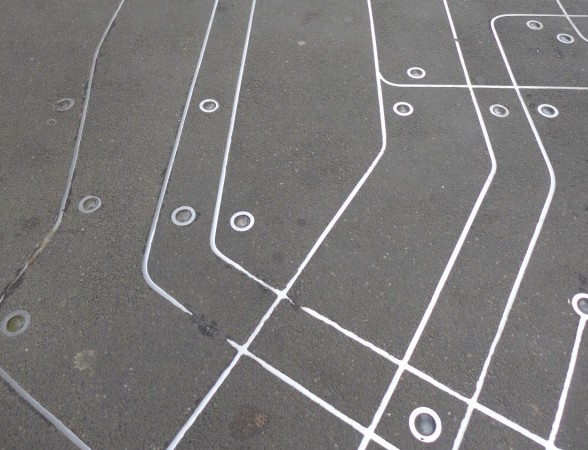 Sidewalk Subway Map: on Greene Street between Spring and Prince Street
Belgian artist Francoise Schein created this amazing piece titled, "Subway Map Floating on a NYC Sidewalk" with concrete rod and LED lights per subway stop. You can find this 87-foot cool work of art on Greene Street cut right into the ground.
5.[via Flickr – star5112]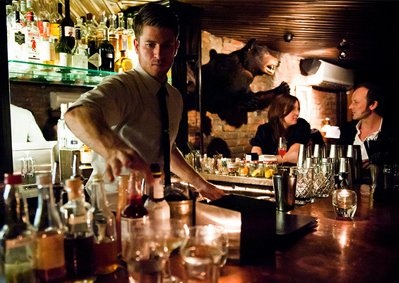 East Village Speakeasy PDT: 113 St. Marks Place
PDT also known as "Please Don't Tell" is very big on secrecy. The trendy speakeasy features a hidden entrance through a hot dog shop's telephone booth in the East Village. If you're a fan of cocktails, you're in luck! This bar is quite known for its absinthe cocktail mixes.
4.[via Alex Lopez]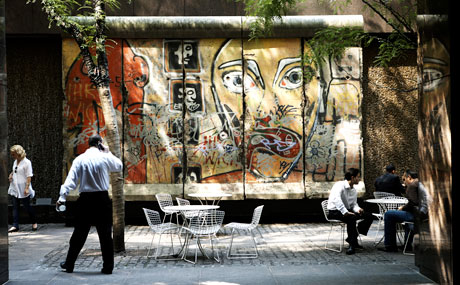 The Berlin Wall: East 53rd Street between 5th and Madison Avenues
Inconspicuously placed, a piece of the world famous Berlin wall is exhibited alongside a courtyard in Midtown East. Many people think this 12-foot high, 20-foot long masterpiece is just another NY street painting but if you look closely enough, you will see that that is not the case. In reality, German artists Thierry Noir and Kiddy Citny incorporated 5 original concrete wedges of the wall that divided Berlin from 1961 to 1989. You can find this this antique remainder burrowed between the Jefferies office building and Paley Park on 53rd Street.
3.[via buisnessinsider.com]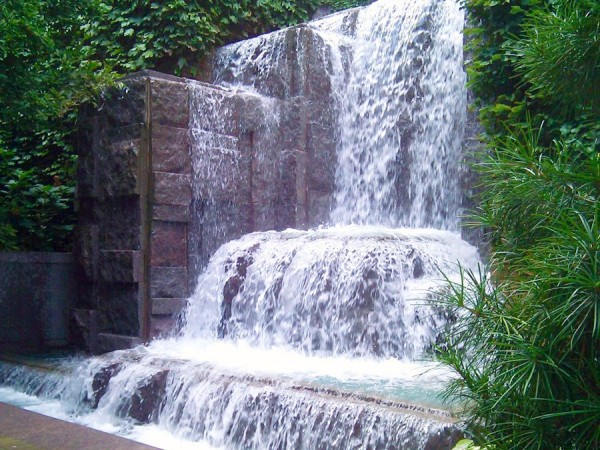 Hidden Waterfall at Green Acre Park: 217 East 51st Street
We are on to our top three hidden gems! Amongst the concrete jungle that is New York City, it may seem out of the ordinary to find a beautiful waterfall in its midst. Well get ready to be blown away – right on 51st Street is a 25-foot secret waterfall in a small park also featuring a seating area. Tired of all the hustle and bustle or need a quick break from the bright lights? Find your way to this relaxing are; it sure is a sight to see.
2.[via Flickr: ilike]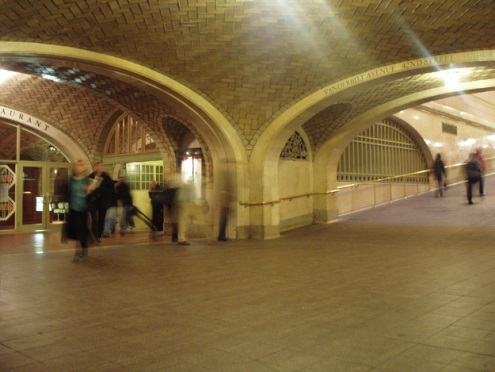 Whispering Gallery in Grand Central Station: 89 East 42nd Street
In one of the most infamous landmarks of NYC is a whisper archway, unbeknownst to many people. In front of the Oyster Bar and Restaurant in the Grand Central Terminal, two people can hear each other's whispers conveyed over the arch while standing at diagonal arches.
1.[via viraljuice.com]
The old City Hall subway stop: After the Brooklyn Bridge-City Hall Subway Stop
For our number one hidden gem in NYC (besides us, of course) we have featured the old City Hall subway stop. Over 75 years ago, this 6 train stop once stirred and buzzed with movement. Unfortunately, in 1945 it was closed down due to its incapability to be remodeled. Guided tours are occasionally available or if you stay on the 6 train after the last stop, you can grab a quick glance of its beauty as it passes through the station when it loops around to the uptown platform.