Vote for The Iroquois New York and Win a Luxury Weekend for 2 in NYC
A luxury oasis in Midtown, The Iroquois New York has been known for service and comforts long before official awards were given for such things in the hospitality industry. Business travellers and celebrities alike have found peace, quiet, and productivity at The Iroquois.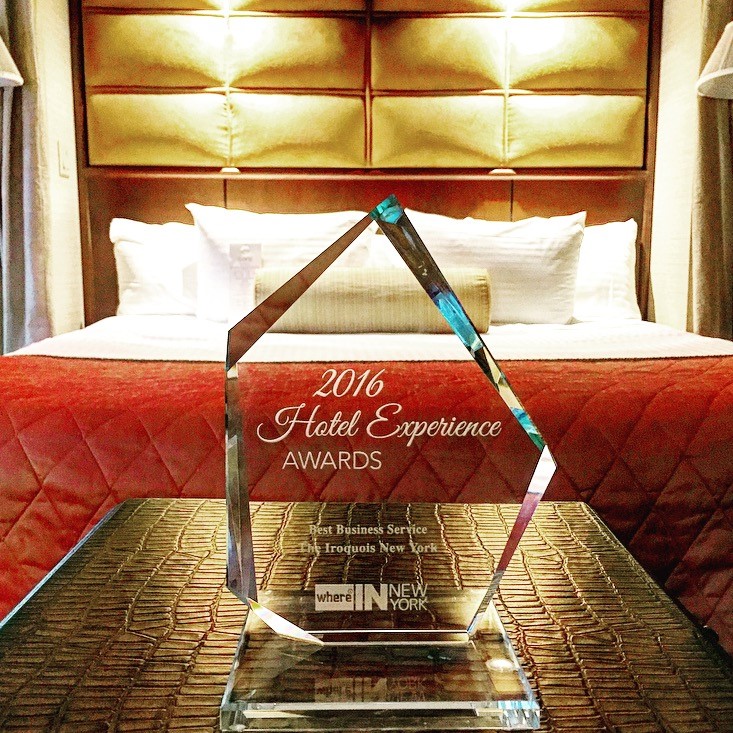 Today, official awards are given for excellence in hospitality, and the Iroquois New York is honored to be nominated by Where® IN New York for the Hotel Excellence Awards.
The Iroquois currently holds the 2016 award for Best Business Service and we would love to be recognized in 2017 as well. The best part is, nominations and winners of the Hotel Excellence Awards are chosen by you, the guests.
Vote for the 2017 Hotel Excellence Awards
Nominations are now being taken for the 2017 Hotel Excellence Awards. Every year, the Hotel Excellence Awards host a prestigious gala, bringing together the top New York City hospitality and travel influencers. We'd be honored to have your vote for The Iroquois again this year.
You could win too
To encourage as much participation as possible, the Hotel Excellence Awards are offering a special incentive. Simply by casting your vote in eight different categories, you'll be entered to win a weekend trip for two in New York City. You'll get luxury hotel accommodations, dinner at one of the city's top restaurants, a round-trip airport transfer, and Broadway show tickets.