Best Free NYC Events in June
There is always something interesting happening in New York City, and there is no better time than summer to enjoy NYC's wide array of free attractions. Whether you are a first time visitor or a local you will find something exciting to do or to see in the city. Don't forget your sunglasses and a sunscreen and let's enjoy summer in the city!
Movies in the Park
Great option if you want to relax on a nice warm summer evening in the city. Free outdoor movie screenings are offered at parks all over the city. Some of the best places to catch an outdoor flick include Randall's Island Park, Riverside Park South, Randall's Island Park, Central Park's Cedar Hill and Washington Square Park.
Dance at Bryant Park
Come and enjoy an awesome Dance Party with music by superb bands and expert dance instruction, each Wednesday evening in May and June. All-ages are welcome to explore a different dance genre each week, including swing, tango, salsa, bachata and more. The event is absolutely free the only thing you need to bring is your great mood and a pair of comfy shoes.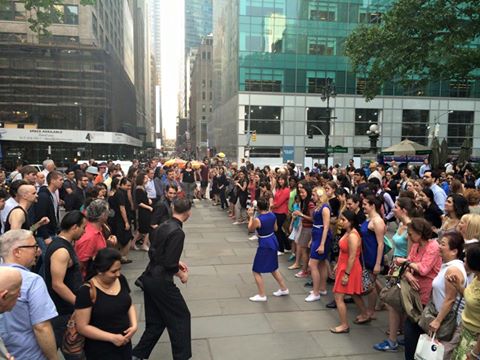 River to River Festival
14th annual River To River Festival is the largest free summer arts festival in Lower Manhattan, featuring music, film, dance, theater, art and participatory experiences in indoor and outdoor locations in downtown NYC and Governor's Island. The Festival takes place on June 18 – 28. Night at the Museums event on June 23 is a part of the festival as well, which includes free neighborhood tours and museum admissions from 4 to 8 pm. Bring all the friends and family members to watch performances of the talented well-known artists.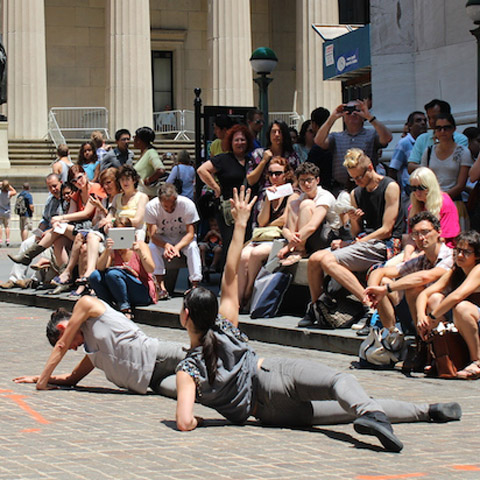 Egg Rolls, Egg Creams & Empanadas Festival
This festival truly represents New York City and it's ethnic and culinary diversity. Try the foods and learn about culture of three Lower East Side's dominant populations: Chinese-Americans, Jewish Americans and Latin American. By popular demand the festival also showcase the contributions of the neighborhood's Puerto Rican community.
Expect lots of fun, music and dance performances including klezmer, cantorial, Peking opera, bomba and plena music, even Yiddish, Mandarin and Spanish lessons, Hebrew and Chinese scribal art, yarmulke making, Chinese and Puerto Rican mask making, community arts and crafts, and of course kosher egg rolls, egg creams, empanadas and other delicious traditional foods.
The Mermaid Parade
For the artistic individuals or anybody who just want to have fun and be impressed The Mermaid Parade is a must go event. The Mermaid Parade is the largest art parade in the nation. It was founded in 1983 with goals to bring mythology to life for local residents who live on streets named Mermaid and Neptune, create self-esteem in a district that is often disregarded as "entertainment" and let artistic New Yorkers find self-expression in public. Unlike most parades, this one has no ethnic, religious, or commercial aims. It's a major New York holiday invented by artists. It's features participants dressed in hand-made costumes based on themes and categories set by the parade organizers. It is truly a great creative event that let anybody enjoy themselves and share personal vision that has become how New York celebrates summer.